Get children playing at home
Get children playing at home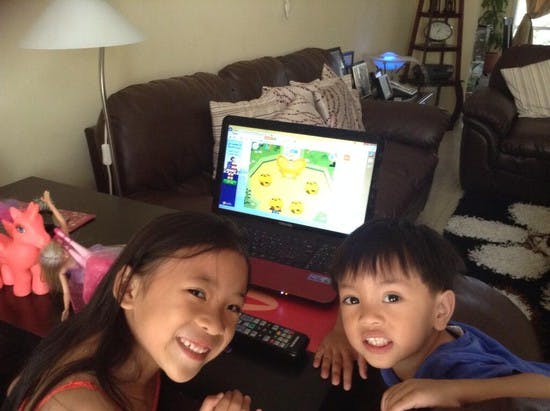 Parental involvement can really boost a child's learning, so we love it when teachers share our resources with parents and get more children playing at home. Play the game on iPhone, iPad, Android, Amazon Kindle, or for free on PC.
Here are the best ways you spread the word about Teach Your Monster to Read:
Print and send our letter to parents
Download and print out this letter for parents and pass it on to parents so their children can access the games at home.
Send the player password cards home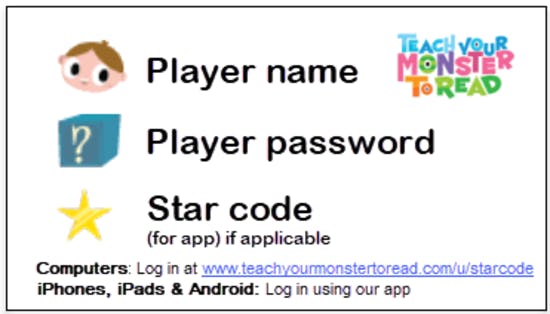 You can download player password cards for all your players from your My_Account page when you sign in. Parents can then log in to their child's game on their device and the player's progress is tracked so you can monitor their progress too.
Share leaflets and badges on your website and social channels
Print out the Teach Your Monster to Read leaflet and pass to parents and colleagues who are looking for a fun and free reading resource.
Download the Teach Your Monster to Read badge and add it to your school website or blog so that more parents know about the game. More images, logos and the game overviews can be found on our press page.
Recommend Teach Your Monster to Read on social media. Go to our Facebook page and Twitter feed to share the series with friends, teachers and parents. Want some words to share in a school or PTA newsletter or social media channel? How about:
"Teach Your Monster to Read is an incredible game that makes learning to read fun. It's highly recommended by teachers and complements phonics programmes used in schools. It covers everything from letters and sounds to reading full sentences. It's free to play on teachyourmonstertoread.com or download the paid app #TeachYourMonsterToRead"
Spread the word about our app
Spread the word about our app on iPhone, iPad, Android and Amazon Kindle - it's a great way for children to access the game at school, at home or on the go.